Hadrian's Wall Panorama from Housesteads Roman Fort
Photo of the Day
A brilliant, saturated sunrise rewarded my efforts to wake early and trek up the hill to get this classic shot of Hadrian's Wall from near the Housesteads Roman Fort. I took plenty of shots from at or near this vantage point at various different times of the day, but I think this is my favourite. It captures both the detail of the wall and its snaking path along the crags while also showing some of the surrounding countryside bathed in a light that had me applauding Mother Nature.
I've now managed to process a few shots from this trip as well as more from the earlier visit to Scotland, so those will trickle through in the next the next little while and I'll try to show off images from some of the top landscapes in the UK.
Click to see a larger image: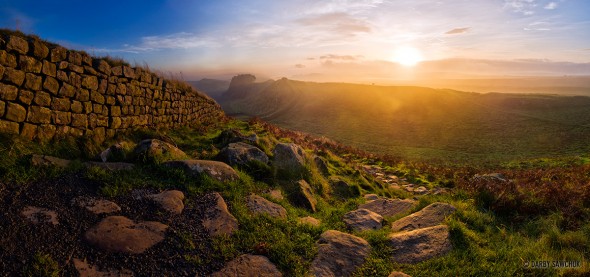 Leave a Reply
By continuing to use the site, you agree to the use of cookies. more information
The cookie settings on this website are set to "allow cookies" to give you the best browsing experience possible. If you continue to use this website without changing your cookie settings or you click "Accept" below then you are consenting to this.