Photo of the Day
Today's image is another from my home province of Alberta and also near Drumheller. This is Horseshoe Canyon. It's stratified slopes make for interesting textures and the eroded canyon is a fun place for a walk in Dinosaur Country.
Click to see a larger image: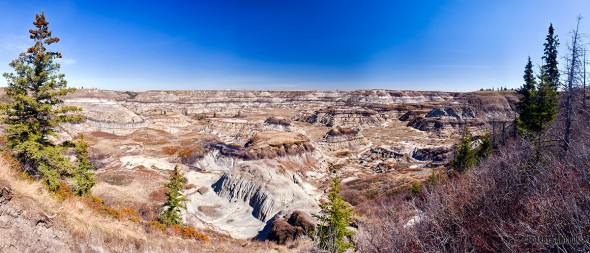 ---
Photo of the Day
Scattered near the site of the Atlas Coal Mine near Drumheller, Alberta are all kinds of fun bits and bobs including these giant wheels. The entrance to the coal mine is visible on the right of this photo.
I've been on the grounds of the coal mine before (see my previous images here), but never done an underground visit. Next time I'm going that way, I should plan time for a stop.
Click to see a larger image: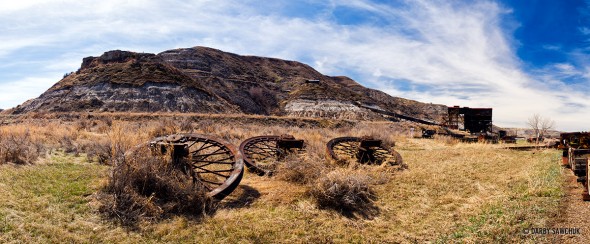 ---
Photo of the Day
One of my favourite day trips from Calgary when I was growing up was a visit to the Alberta Badlands. It's dinosaur country after all – what kid isn't going to get excited at the idea of hunting for T-Rex bones?
And of course, one of my favourite spots there is the hoodoos. This area shaped by eons of erosion always resembled an alien landscape and captured my imagination.
When I visited a couple months ago, I was a bit disappointed to find that construction had begun on a stairway and path leading around the hoodoos. I understand the need for protecting the fragile formations from the erosion that tourists can cause, it's just sad to see that it's necessary.
So, a shot like today's photo of the day is a bit special in that it captures the hoodoos before the view changes.
Click to see a larger image: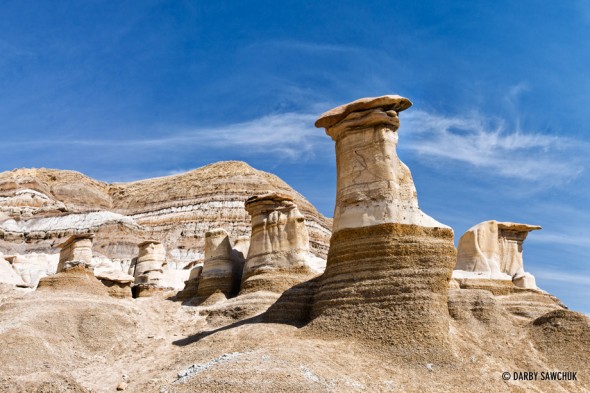 ---