Photo of the Day – Manchester Cathedral
Manchester Cathedral is one of my favourite buildings here in Manchester and I had already photographed it plenty of times (see my gallery of Manchester Cathedral images here). But with the opportunity to use new gear comes the opportunity to shoot old subjects in new ways.
Briefly armed with a Nikon D3 and a 14-24mm lens, I headed over to the Cathedral for a nighttime shot on a super-wide angle. Result!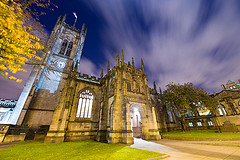 Leave a Reply
By continuing to use the site, you agree to the use of cookies. more information
The cookie settings on this website are set to "allow cookies" to give you the best browsing experience possible. If you continue to use this website without changing your cookie settings or you click "Accept" below then you are consenting to this.