Inspired by this strobist post, I decided to have a go at capturing some water drops. Actually, I mostly saw the post title and said to myself, "Okay, I've never done that before. Let's give it a try," And failed to actually read the article. I went ahead and set up my shot, took it, processed it and only later did I check out the handy tips in the post! I think I might give it another shot sometime soon armed with the added knowledge there.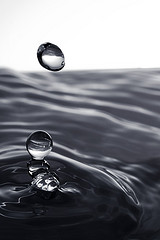 So, here's my first attempt at shooting wee water drops:
Given my fondness for elements of randomness and chance in photos, I'm surprised I haven't played around with this before. I have no excuse now that I know a bit more about how to do it.
Lighting info: One speedlight on the background. That's it! Mr. Strobist has already told you what you need to know.
---