Photo of the Day
Today's image is from one of my favourite places in the world: Moraine Lake in Banff National Park , Alberta, Canada.
The colour of the water is unrealistically blue and in it are reflected some astonishingly beautiful mountains, the Ten Peaks. If this place doesn't stir you even a little bit, I feel bad for you and your dead soul. Even if landscapes aren't your thing, you have to draw a line somewhere and just succumb to that voice inside you that's trying to get out and say, "Wow."
Due to this natural beauty, Moraine Lake is a big draw for photographers and the scene has been captured in most imaginable ways. I haven't however, seen a lot of panoramas that pull back a little bit and frame the grandest part of the scene with the surroundings. The morning I was there didn't quite yield the sunrise I had hoped for, so I felt I needed to do a bit more than just the standard shot. This place deserves the effort.
Click to see a larger image: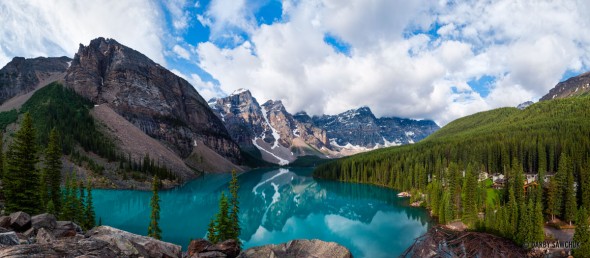 ---