Photo of the Day – Victorian Girl
Given that I am currently attending the Redeye Photographic Symposium which is being held at Chetham's Library, I thought I might post one of my old images from the photo shot I did there for the Royal Exchange Costume Department.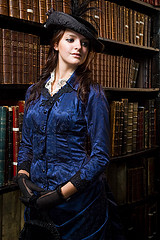 More images from the shoot here.
Lighting info: Model was lit by an sb-800 shot into an umbrella to the left. And I think that may have been it. There was a window out of frame which would have been giving the light light coming from the back right.
Leave a Reply
By continuing to use the site, you agree to the use of cookies. more information
The cookie settings on this website are set to "allow cookies" to give you the best browsing experience possible. If you continue to use this website without changing your cookie settings or you click "Accept" below then you are consenting to this.