Photo of the Day
The drive up to the Isle of Skye is a fairly long one by UK standards, but it certainly has a lot of possibilities for stopping points along the way. Though this was a little bit out of the way for our route, the view is worth it.
This the Glenfinnan Monument which presides over Scotland's Loch Shiel. The monument commemorates Bonnie Prince Charlie's Jacobite uprising – Glenfinnan was the place where he raised his standard to begin his campaign.
I was only able to get this photo after making a couple of trudges up the hill behind the monument. When I first climbed to the viewpoint, the weather decided to be rather uncooperative. As soon as my camera was out, it started to rain. I put my camera away, and the sun briefly broke through. No sooner was my tripod set up again and the rains came back. The fast-moving clouds seemed to be taunting me.
I headed back down the hill and I wandered out to the monument with my very patient wife. On the way, the clouds parted and dramatic bursts of light dappled the loch. Back up the hill I went. I got there just in time to catch the last rays hitting the hills before being sealed up behind the clouds.
This shot was easily worth two trips up the hill.
Click to see a larger image: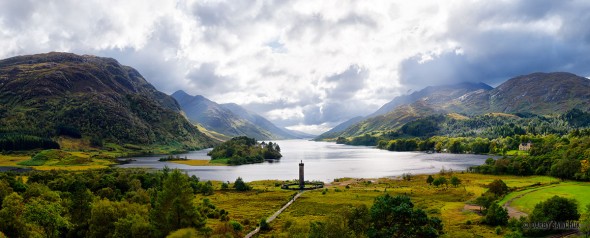 ---