---
---
---
---
---
---
---
---
---
---
---
---
---
---
---
Photo of the Day
I recently returned home from a trip to Jordan where I was dazzled by the region's history and culture. Now that's I've settled in after a busy week, I can finally share an image from my travels.
This is the Treasury of Petra by Moonlight. You might recognise this impressive structure from the third Indiana Jones movie. Disappointingly, it doesn't actually house the holy grail, but the exterior is much more impressive in person than the movie can convey. A mile-long cobbled canyon (the Siq) ends in a narrow gap that then opens out into this dramatic view of one of the seven new wonders of the world.
This massive project is one of many carved structures dotting the area, but it's one of the biggest, one of the most ornate, and thanks to that grand entrance, it's one of the most impressive. I had been returning late from exploring the other tombs in the area and the moon had just started to light up the Treasury as I walked past. I was able to wait a little while until it was fully in the moonlight to capture the Treasury lit up with the stars in the sky. It was a joy to be there almost alone to see it in the dark.
Click to see a larger image: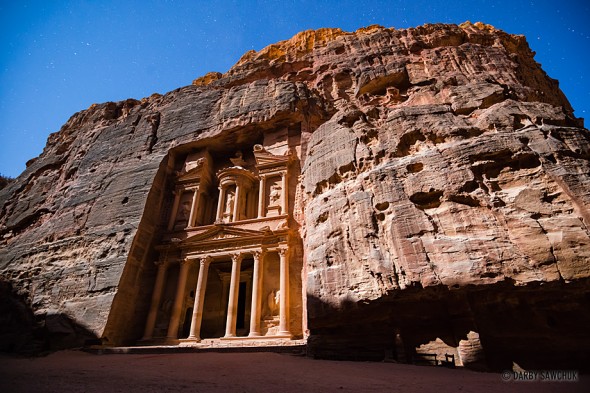 ---
---
---
---
---
---
---
---
---