---
---
---
---
---
---
As promised, here's a glimpse of what's in store for visitors to Croatia. This panoramic view comes from near the station of the newly-rebuilt cable car that now whisks visitors up to the mountains above the city of Dubrovnik. Destroyed during the Yugoslavian civil war, the cable car has re-opened and now provides easy access to this majestic view of Dubrovnik's old town.
At the station at the top, one hall features photos of the cable car's original construction, shots of it after it had been destroyed and images of its recent re-construction. One worker there revealed his sadness at what had occurred during the war. He was 15 when it all happened, so these memories became a big part of his formative years. When asked if he considered Croatian's friends with the Serbs that had carried out the attacks on Dubrovnik, he said, "We are neighbours. I don't hate them, but I will never forget," revealing the scars of a complex and awful period in the region's history.
Dubrovnik's scars are no longer exceptionally obvious on the ground. – you have to do a bit of searching to see the remnants of that recent war. But from this high up, you can forget about all that and just revel in the glorious view.
Click below for a larger image: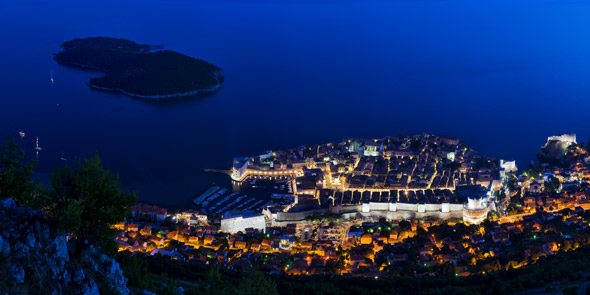 ---