---
Photo of the Day
On my recent trip through Banff National Park, the weather left something to be desired. Considering how relentlessly sunny Calgary had been, I had hoped that the trend would continue further west. On this occasion, that wasn't the case, but there are ways of making some interesting pictures even if the light doesn't cooperate as you might like.
One of those ways is to give the scene a more mysterious feeling by substantially lengthening the exposure time. Thanks to a trusty 10-stop neutral density filter, exposures become long enough to smear the clouds and turn water into glass.
That's just what this shot of the blue glacial waters of Bow Lake needed to bring it to life. The brilliant colour of the lake is the star attraction in this shot, but the mountains beyond are nothing to sneeze at either. The mostly overcast day, however, just wasn't all that flattering, so the ND filter came out of the bag of tricks and the more ethereal result is what you see here.
Click to see a larger image: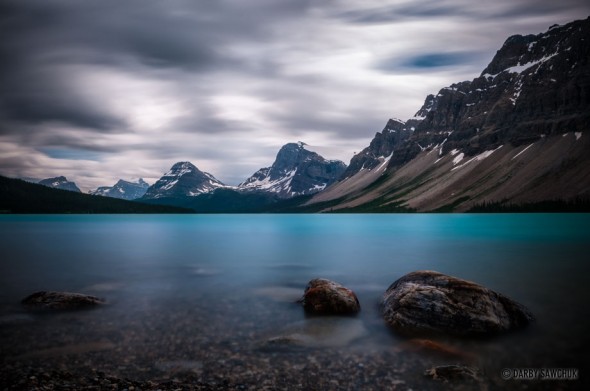 Please visit my Southern Alberta gallery to see more images from this region.
---
---
---
---