Photo of the Day
Here's another of those rare instances where I took a panoramic shot on my travels in Southeast Asia and, yet again, it makes me wish I had done more.
This one is from Singapore, a city that has probably already changed quite a bit since I took this shot. This shot features the Esplanade (a.k.a. the Durian, the performing arts centre in Singapore) and the city's financial centre.
If this shot wrapped any further to the left, I know it would be rather out of date by now since there has been a massive amount of construction on the other side of the bay.
Click to see a larger image: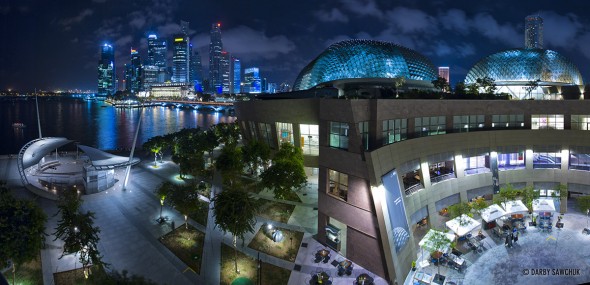 ---
Since yesterday's photo of the day was from the studio, today's will be from out in the big, wide world. This is, after all, a site focused on travel photography. (I hope you like the studio work too – it pays the bills after all!)
This swimming giant is a white tiger at the Singapore Zoo who was treading water in the hopes of getting some of the juicy meat the keepers were tossing to the beautiful beasts.
Click the thumbnail for a larger view or see it on flickr here:
More photos of the Singapore Zoo.
More wildlife photos in my portfolio.
---
I've just finished adding a huge batch of photos from the Southeast Asian, island nation sensation. For anyone eager to get straight to it, I shall cut to the chase and invite you to check out my photos of Singapore.
For some of my time in Singapore, I was accompanied by some great travel companions in Jenny, Katy and Sam. Our mini-golf game on Sentosa Island stands (strangely enough) as a highlight of my stay in SIngapore. Really, what could be better than being a kid again with some fun friends while bouncing around a mini-golf course in an exotic location. Sam thought I should take up a career of photographing miniature golf courses around the world thus combining a few passions into one undoubtedly lucrative career.
As you will see from the photos, however, I did have a lot of time to wander the city on my own with cameras in hand. Singapore has fabulous locations where a shutterbug traveller can keep himself busy for hours. The colonial district is full of history. The Singapore Zoo satisfies every zoological interest. The modern skyscrapers mark the country's economic ascendency. Populated by peoples from a diversity of backgrounds, the cultural influences blend and mix like streams flowing to form a larger river that has an identity of its own. And if you want to put away the camera, you will never find yourself wanting for someplace to shop or eat.
I could easily spend more time there and I hope someday I will. Until then, I will content myself with looking at a few images:
---