Another long-overdue collection of images is finally live on my site. Please take a moment to browse my photos of Jordan here.
Though a not insubstantial time has passed since my visit, the memories are as vivid as could be. Here's just a quick sample: Hiking in Petra, hitchhiking with some random moustached man whose car interior was totally and completely wrapped in cling film and who smelled like candy, floating in the Dead Sea, leaping from ledges into sand dunes and racing down them like a kid, getting pelted in the back with a stone by some seven year old girl (wtf!), getting chased by camels, balancing precariously on giant natural arches, walking in Moses' footsteps, exploring medieval castles and forts, having an ibex steal a potato from us, eating some pretty great food, listening to the haunting, synchronised call to prayer alone on a hilltop beneath a roman ruin in Amman, rescuing a donkey from a cliff, etc..
There are plenty more memories to be shared in photo form, so please visit the gallery.
---
Photo of the Day
Clouds were a rarity on my trip to Jordan. Most days, the sky was a swath of blue interrupted only by the blazing sun.
Today's photo of the day shows one of the cloudier evenings I experienced there and still, it's only wispy, thin clouds obstructing my view of the stars. They certainly didn't prevent the moonlight from reaching the Street of Facades in Petra, a group of ancient tombs carved into the rocky hillside.
Click to see a larger image: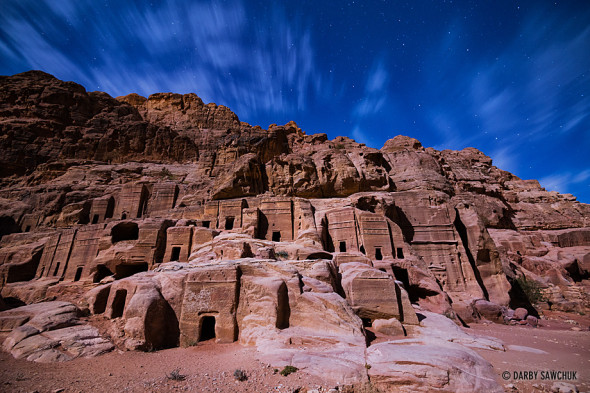 ---
---
Photo of the Day
I recently returned home from a trip to Jordan where I was dazzled by the region's history and culture. Now that's I've settled in after a busy week, I can finally share an image from my travels.
This is the Treasury of Petra by Moonlight. You might recognise this impressive structure from the third Indiana Jones movie. Disappointingly, it doesn't actually house the holy grail, but the exterior is much more impressive in person than the movie can convey. A mile-long cobbled canyon (the Siq) ends in a narrow gap that then opens out into this dramatic view of one of the seven new wonders of the world.
This massive project is one of many carved structures dotting the area, but it's one of the biggest, one of the most ornate, and thanks to that grand entrance, it's one of the most impressive. I had been returning late from exploring the other tombs in the area and the moon had just started to light up the Treasury as I walked past. I was able to wait a little while until it was fully in the moonlight to capture the Treasury lit up with the stars in the sky. It was a joy to be there almost alone to see it in the dark.
Click to see a larger image: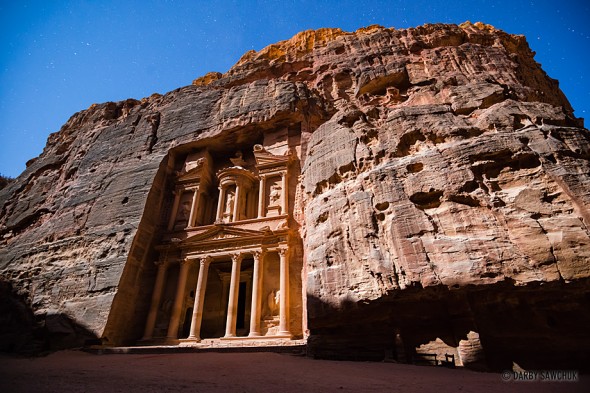 ---