I've had itchy feet lately and, a couple nights ago, while contemplating the fact that I couldn't responsibly head to the airport and get on a plane to, say, Tanzania to shoot some wildlife, I decided to go with the only option I had in the house: a toy hippo. Sure, it's not as exciting as watching a real hippo, not by any stretch, but when you have no real hippos available to you in the evening, few other options remain.
One little tub of water and a few speedlights later and you get this, a portrait of a miniature hippo. Click for a larger version: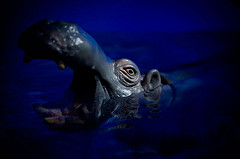 A little bit of fun, and really, I wouldn't be have been able to fit a full-size hippopotamus into the kitchen.
Lighting info: One speedlight on the background with a blue gel. One just left of camera with blue gel. One camera right with a grid to light the hippo.
---