My Flickr Is Alive (Again)
I've decided to give Flickr another try. It was about two years ago that I was at my most active there and while it was a bit of fun, I got a little bit bored of it.
This time, however, I am treating it as a bit of an experiment. With the community's ever growing visibility, more and more success stories, (just see last month's American Photo story about flickr superstars if you don't believe me), it makes sense to see what kind of opportunities an active participation can yield.
I certainly don't expect any over night fame, or really, any fame at all for that matter. I'm mostly just curious about whether regular flickr usage can do a few simple, positive things like drive traffic to my site or result in a stock sale or two. Perhaps a commission here and there? Who knows. I personally know people who have done just those things.
Besides, if nothing else, I'm bound to e-meet (and real-life meet) a few people and make some contacts or even friends. So, without further ado, my first new addition to my Flickr stream is right here: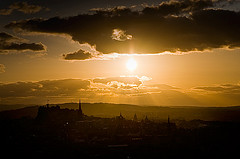 And please visit my photostream.
Lastly, is you are interested in licensing this image or purchasing a print, contact me here.